Our bodies were built to shift our eating pattern with the change of the seasons to better function in our environments. As we recently transitioned into Autumn on September 23rd, it is important to pause and reflect on our summer season, and how we will be our best selves this fall. Autumn is a time to slow down. As always, we should remember to breathe and pause. Observe. Allow. Listen. As the nights get longer and the air cooler, eating for the season will allow us to live more in harmony within ourselves.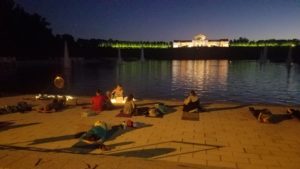 After enjoying a beautiful yoga practice at the Grand Basin in Forest Park on the Fall Equinox, I created a grounding dish of root vegetables for dinner. I happened to have parsnips and carrots and got creative in making the recipe I will share. Remember that cooking and preparing good food does not have to be time consuming, expensive or even from a recipe. Roots is one of my favorite cookbooks however, especially during the fall season. Looking forward to trying celery root and more beet recipes this fall season!
This amount made 4 servings. 2 for dinner, and 2 for lunch. Healthy leftovers for lunches are always nice to have and you can change up the flavor with condiments to make it a little different if you prefer!
4 medium carrots chopped
2 parsnips chopped
1/2 of red onion chopped
1 cup black rice (brown rice is good too)
3 cloves of garlic smashed and finely chopped
sesame oil, salt, pepper, thyme
Cook the rice – I use a rice cooker
Add parsnips, carrots and onions to a skillet and cover with sesame oil – 4 tbsp is appropriate
Cook until desired consistency – about 8 minutes, longer if you like the vegetables softer
Add garlic, salt, pepper and thyme and cook for an additional 30 seconds
Mix vegetables with rice and enjoy!
Add any condiments if you prefer. I added sriracha and liquid aminos on my leftovers for lunch the next day.